Builder's Air of North Florida, Inc: Commercial HVAC in Gainesville and Surrounding Areas!
Air Conditioning & Heating Contractors
Keeping things cool since '92
Installing a new HVAC system or repairing an old one in your home business or 400-unit building, you want a company you can trust. There's one name that Floridians have counted on since 1992: Builder's Air of North Florida. As a family owned and operated Heating, Ventilation and Air Conditioning (HVAC) contract company, Builder's Air offers the quality products and services that keep things comfortable throughout the state of Florida.
Learn More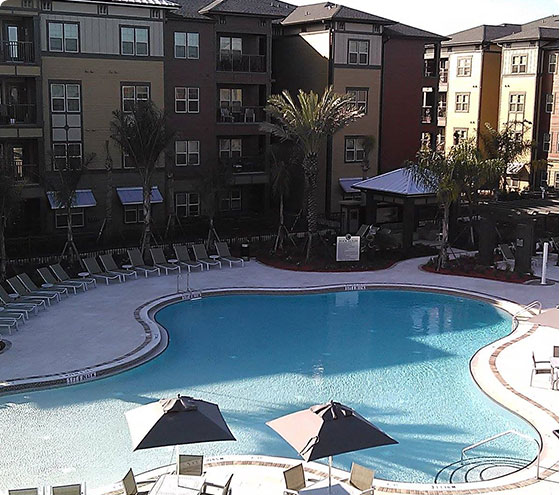 Experienced Professionals
Specializing in serving the HVAC needs of multi-family units such as apartment complexes, Builder's Air of North Florida is committed to delivering excellence in every service we provide. Our highly trained and experienced technicians have years of experience in the installation, maintenance and repair of HVAC systems and ancillary equipment. Equally important is the courteous approach of every technician. They're trained to respect you and your business or home as they would their own. Quick, courteous and professional, the technicians of Builder's Air of North Florida have the experience necessary to get the job done right the first time, every time.
Learn More
Quality Products (Goodman, Crown)
Even the best technicians require quality equipment to deliver excellent results. For over two decades, Builder's Air of North Florida has been servicing and repairing all makes and models of HVAC equipment. This means we have first-hand knowledge of the quality and durability of a huge variety of air conditioning and furnace systems. We know what's good…and what isn't. That's why Builder's Air is proud to offer only Goodman HVAC products. Visit our services page to learn why we consider Goodman to be the industry's best brand.
Learn More
Builder's Air of North Florida: The Right Choice
When you do something really well, people take notice. Builder's Air has been doing the kind of quality HVAC work that people throughout North Florida have come to expect and appreciate. Our family takes real pride in providing the services and products that keep you, your family and your customers. It's easy to see why so many insist on Builder's Air for HVAC sales, installation, maintenance and repairs:
Air Conditioning
Furnaces
High-Efficiency Heat Pumps
Packaged Heating & Cooling Systems
Thermostats
Zoning systems
Air Handlers
Dehumidifiers
Humidifiers
Air Cleaners
UV Air Purifiers
Ventilators
Evaporator Coils
And more!
Experienced in both Multi-family complexes & commercial multi-use HVAC applications
Locally, Family-Owned and Operated Business
Same-Day Service
Planned Service Agreements
FREE In-Home Estimates
Professional, courteous & highly-trained technicians